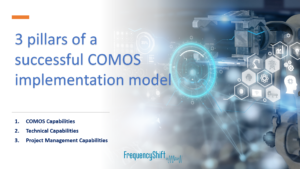 Being part of a team that is one of the very first to use COMOS in the South African industry has been very challenging. Particularly within the scope of assisting EPCMs with executing their engineering designs in COMOS. In the beginning of our Journey with COMOS, the idea was that the successful implementation model of would be to teach someone COMOS and eventually, they could produce the right quality deliverables under the guidance of an EPCM project manager/engineer. However, in practice, it became evident how far off the mark we were. As much as the common perception is that COMOS is lacking features and too complex to optimise within a short space of time, the biggest hurdle proved to be the development of a successful implementation model. This article outlines the 3 pillars that we have identified as the most important in developing a successful COMOS implementation model.
One of the reasons there is slow traction regarding COMOS implementation is the fact that there are misaligned expectations between COMOS developers, End Users of mining plants and Engineering companies. Engineering companies expect the COMOS database complete with all industry standards and fully developed templates, whereas COMOS vendors expect the database to be configured by its users. On the other hand, COMOS vendors expect to be compensated for any efforts on their part to develop the software as per user requirements. The resulting issue is that Engineers and Engineering designers are demotivated from using COMOS regardless of its clear and useful features and capabilities. The common perception is that COMOS is complex and complicated; and this perception is usually formed from all the facts previously mentioned. To some extend that may be true. However, COMOS and its features are not what is important to optimising your outputs. What is more important rather, is developing the right COMOS implementation model. Now, that may be a big statement to make, but what works for us is the satisfying of the three pillars of a successful implementation model. These being COMOS capabilities, technical capabilities, and project management collaborations.
COMOS capabilities
The key benefit of developing your COMOS capabilities and skills is that it eliminates your organisation's dependency on COMOS vendors. This approach will not only save you and your customers a lot of time and money, but it will add a lot of value to your organisation. A typical example of this is how we have been able to develop our own COMOS capabilities and talent. The result is that we are now able to create and develop datasheets, RAT lists, hook-up drawings etc. that are more comprehensive and detailed compared to what COMOS was originally able to produce. It is through this model that we can now modify and improve standard engineering design templates according to what we need them to show, hence reducing dependency on COMOS vendors for support, while producing good quality deliverables.
Technical Capabilities
Integrating technical capabilities with your COMOS capabilities allows for more accurate and reliable deliverables. By having people within your team with an engineering background, you can execute your projects better in line with industry principles. It is therefore easier to execute each project individually and uniquely according to client standards and specifications. Technical capabilities should be there to guide the COMOS design process to address the technical aspects of all your outputs. Thus, producing more detailed and comprehensive deliverables. Technical capabilities are essential in understanding the scope of work to be done as well as what is needed in the outputs, whereas the COMOS capabilities allow for the execution of the project while considering the technicalities that need to be addressed in all your deliverables.
Project Management Collaboration
Project Management skills are best contributed by EPCM Project Managers and Engineers. As COMOS design assistants, we work hand in hand with them, as EPCM representatives, so they guide us in meeting their client's/end user's standards and specifications. Project management is key to executing a project according to your client's timeline, budget, and required outputs. That is, you can execute projects and finish them on time, within budget while ensuring that the correct deliverables are being produced. A team will be competent enough to produce the good quality of work required in any project, if it has COMOS capabilities coupled with technical skills and project management collaborations.
What we need as an industry, is for COMOS to be better, and play an active role to improve the ecosystem where COMOS is concerned. In that way, we pave the way for a more developed COMOS ecosystem in which more EPCMs and End Users can confidently embrace COMOS usage within the Mining, Minerals and Metals industry. It has been over a year and a half  in this journey with COMOS and assisting EPCMs with COMOS design. In this time, through teamwork and hard work, the team was able to gain a lot of experience and learn quickly, driven by the demand of quality work from our experienced customers. Hence, it became clear that this is the winning formula where COMOS implementation is concerned. The acceleration of the proliferation of COMOS within the SA market will only be achieved if all stakeholders play their part towards making this vision a reality.
By Clint Jones (Senior COMOS Instrumentation Designer at FrequencyShift) & Theko Letsie (Head of COMOS Implementation at FrequencyShift)